Carrick-on-Shannon's Lena's Tea Room wins in two Categories at the World Marmalade Awards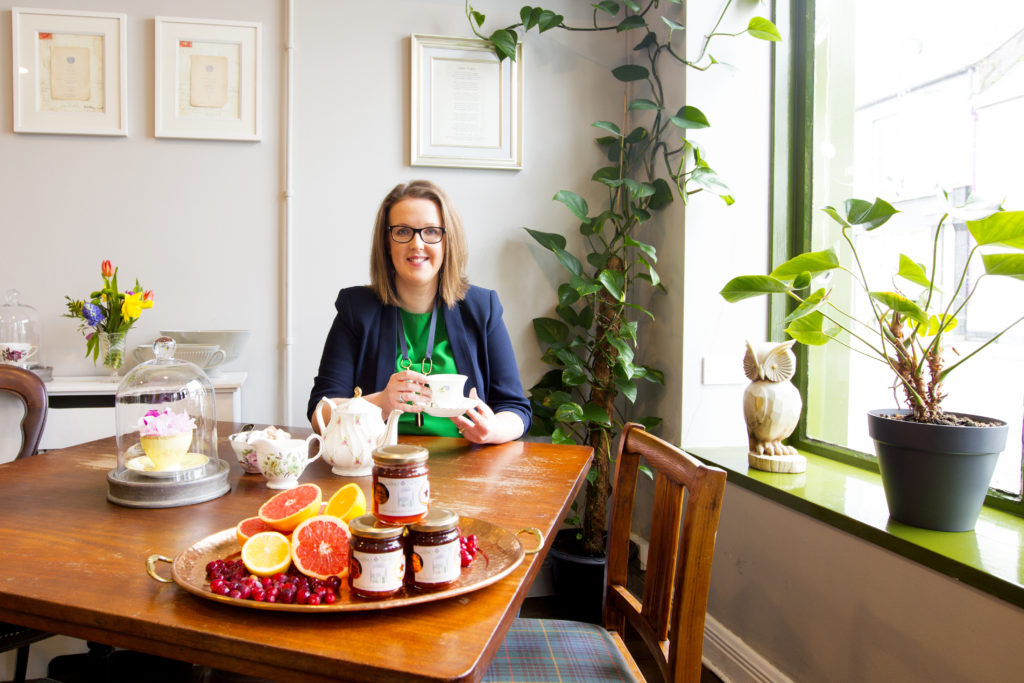 For the second year running Deirdre O'Connell of Lena's Tea Room, Carrick-on-Shannon, Co. Leitrim is celebrating success at the prestigious World Marmalade Awards, with her Pink Grapefruit and Cranberry marmalade taking home two awards.
Founded in 2005 by Jane Hasell-McCosh, the World Marmalade Awards seek to preserve and expand the tradition of making marmalade. With over 40 countries taking part each year and two sister festivals in Australia and Japan, the awards have become a global event. Patrons of the awards include Guardian food writer and baking guru Dan Lepard, preserves expert Pam "The Jam" Corbin (of River Cottage fame), Karen Jankel (daughter of Paddington Bear creator Michael Bond) as well as perhaps the most celebrated marmalade connoisseur in the world — Paddington Bear himself!
Judged by an esteemed panel of journalists, business leaders and people well respected in the food industry, Deirdre's marmalade was competing in Artisan Awards category, which promotes small-scale marmalade makers using the traditional open-pan method.
The awards were announced 14th March, as part of the annual Marmalade Festival held each year at Dalemain Mansion, a stately Georgian home on the outskirts of Penrith, in Cumbria, England.
Owned and run by Leitrim native Deidre O'Connell, Lena's Tea Room is a vintage-inspired tea room in Carrick-on-Shannon which begins its 9th year of business next month and is no stranger to picking up awards, having been chosen as Today FM's "Best Café in Ireland" in 2014, and as runner-up for Goodall's "Best Scone in Ireland" in 2015.
"Baking has long been a great passion of mine," she says. "The idea for a coffee shop was always formulating in my mind. So in 2011, at the height of the recession when many places were closing, I decided to open a business! I had a very clear vision of what I wanted in terms of style, décor and most importantly the food. The emphasis is on home baking."
The small team of 10 at Lena's make and bake all their goods on a daily basis. "I couldn't ask to work with a better group of people," says Deirdre.
Two years ago, she decided to try an interesting recipe she had discovered for a Pink Grapefruit and Cranberry Marmalade.
"I thought it was a quirky recipe which would be lovely for breakfast or could go well with dark meats such as duck or pheasant."
It proved a big hit, so she set aside two jars to enter into the World Marmalade Awards, little expecting to land Bronze on her first attempt. This year, Deirdre's creation was recognised in two of the seven Artisan categories, taking a Bronze Award for 'Citrus Preserve with Interesting Additions', and a Silver Award for 'Marmalade for Savoury Food'.
"My little pot of amber goodness is really making a name for itself! I'm delighted to have our unique marmalade recognised once again at this year's World Marmalade Awards. Following last year's surprise win and having also won a Bronze award at Blas na hEireann I'm honoured to win two awards this year. "
The Pink Grapefruit & Cranberry Marmalade is available to purchase from Lena's Tea Room.
Lena's Tea Room, Main Street, Carrick-on-Shannon, Co. Leitrim, 071-9622791.
Open Tuesday to Saturday 10-5, Closed Sun & Mon.
www.lenastearoom.ieinfo@lenastearoom.ie,
Facebook/Twitter/Instagram – @LenasTeaRoom