The Red Bank Restaurant in Carrick-on-Shannon, Co Leitrim, has now opened The Secret Garden, a gorgeous outdoor dining space offering warm hospitality and quality casual dining, complemented by carefully selected wines, craft beers and a vast cocktail menu. The perfect spot to catch the last of the summer sun or to enjoy an al fresco dining ambiance all year round, The Secret Garden is fully heated and weather proofed, seating up to 60 and serviced by its own bar. It also features a 4-metre-tall blossom tree with 14,000 lights at the centre, making for a beautiful, relaxing outdoor space.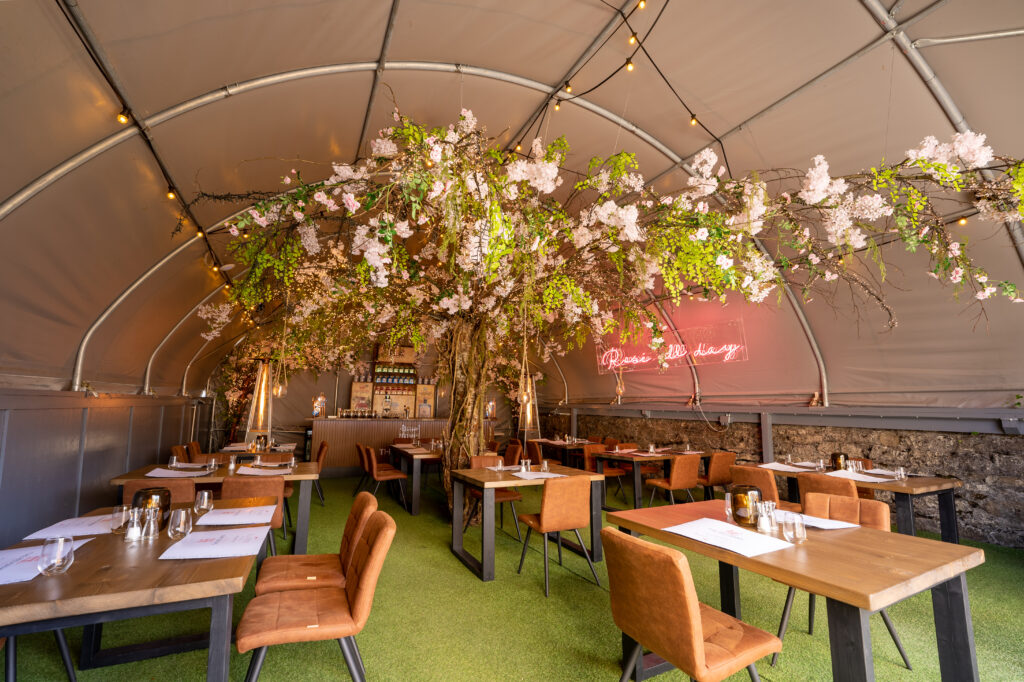 A family-run business, owners Jason and Sonata Horkan opened The Red Bank Restaurant in March 2020.Family-friendly and catering to all dietary requirements with an extensive childrens, à la carte, vegan and vegetarian menus, The Red Bank Restaurant offers extensive indoor and outdoor dining, making it the ideal choice for locals, holidaymakers and those making a pitstop along The River Shannon.
Guests can enjoy innovative dishes created by The Red Bank Restaurant team, led by Head Chef Michelle McGowan. Michelle is passionate about using seasonal ingredients sourced through local producers in Leitrim, Sligo and surrounding counties. These include beef from Brogans Butchers, Co Meath; pork from Andarl Farm, Galway; fish from Joe Garvin's Fish Sales, Mayo; chicken from Gannon's Poultry, Leitrim; goat's cheese from Leitrim Hill Goat's Cheese and artisan cheeses from Dozio Cheese, Mayo.
Appetisers include Drumshanbo Sausage Tree Vodka Gravlax featuring beetroot, dill and horseradish cured Clew Bay Salmon with a Nori blini, Sausage Tree Vodka crème fraiche and seaweed pesto; Smoked Silver Hill Duck Bon Bons made with Leitrim Hill Goats Cheese risotto, pickled beetroot and beetroot foam; and Shredded Andarl Farm Pork and Peach Salad with halloumi, wild garlic croutons, candied nuts and pear ketchup.
Sample main dishes include premium Irish beef from Brogans Farm; hearty burgers like Gannon's Hoisin Chicken Burger and Brogan's Farm Smashed Fillet Steak Burger while fish dishes include Irish Blond Ale Battered Haddock with pea purée, chunky tartar and skinny fries and The Bank's Signature Seafood Linguine packed with Clew Bay mussels, king prawns and monkfish, served with Blackened Bread. Another favourite is the Andarl Farm Pork Tasting Plate featuring oat rolled pork fillet, confit belly and black pudding tian, complemented by cherry purée, pickled mustard and a rich port jus. Highlights from the extensive vegan/ vegetarian menu are Cauliflower, Sweet Potato and Cashew Curry served with coconut rice, garlic flatbread and cumin yogurt and the Falafel Burger with garlic and chili salted crispy kale, smoked aubergines chutney and beetroot aioli.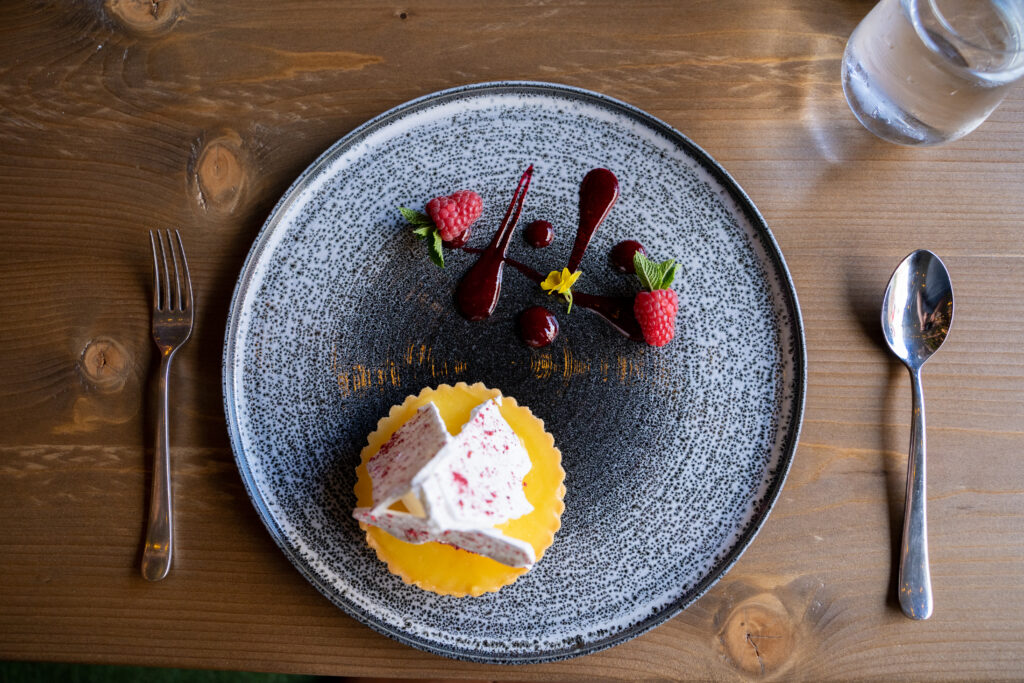 The local influence is carried through to the dessert menu, featuring Drumshanbo Whiskey Sour Crème Brûlée served with a torched Angostura Bitters marshmallow and orange shortbread biscuit; a Lemon Tart with Gunpowder gel, Gin and elderflower sorbet, raspberry meringue shards; and a selection of Irish artisan cheeses including Dozio's Ella, Dozio's Barra Rua, Cashel Blue and Leitrim Hill Goat's Cheese with fruit chutney and crackers.
Craft beers are from The Reel Deel Brewery in Crossmolina, Co. Mayo while wines are sourced from small organic or biodynamic producers where possible. Guests can also choose from a wide range of cocktails, some of which are made using spirits from The Shed Distillery in nearby Drumshanbo. All the classics are available including The Bank Espresso Martini made with Sausage Tree Vodka, Chocolate Infused Baileys, Kahlua, Warbler and Wren Espresso. There's also a range of Leitrim-inspired cocktails like the Shannon Blues, made with spiced rum, coconut rum, mango, pineapple, lime juice and blue Curacao or the Fizz Berry Art, created using Sausage Tree Vodka, berry syrup, lime juice and mint and topped off with Piper-Heidsieck Champagne.
The Red Bank Restaurant, St. George's Terrace, Carrick-On-Shannon, Co. Leitrim, N41 CK00; www.theredbankrestaurant.ie
Opening hours: Monday and Tuesday. closed; Wednesday and Thursday, 4pm – 9pm; Friday and Saturday, 1pm – 9.30pm; Sunday, 1pm – 8pm. For bookings, call 071 96 71392; email dine@theredbankrestaurant.ie
Keep up to date with the latest news by following The Red Bank Restaurant on Twitter at @TheRedBank and on Facebook and Instagram at @TheRedBankRestaurant