Culinary experts from HelloFresh Ireland have shared new data which reveals which counties in Ireland are the most vegetarian-friendly.
The research shows that Leitrim has secured a spot in the rankings as the second best county for vegetarians in Ireland.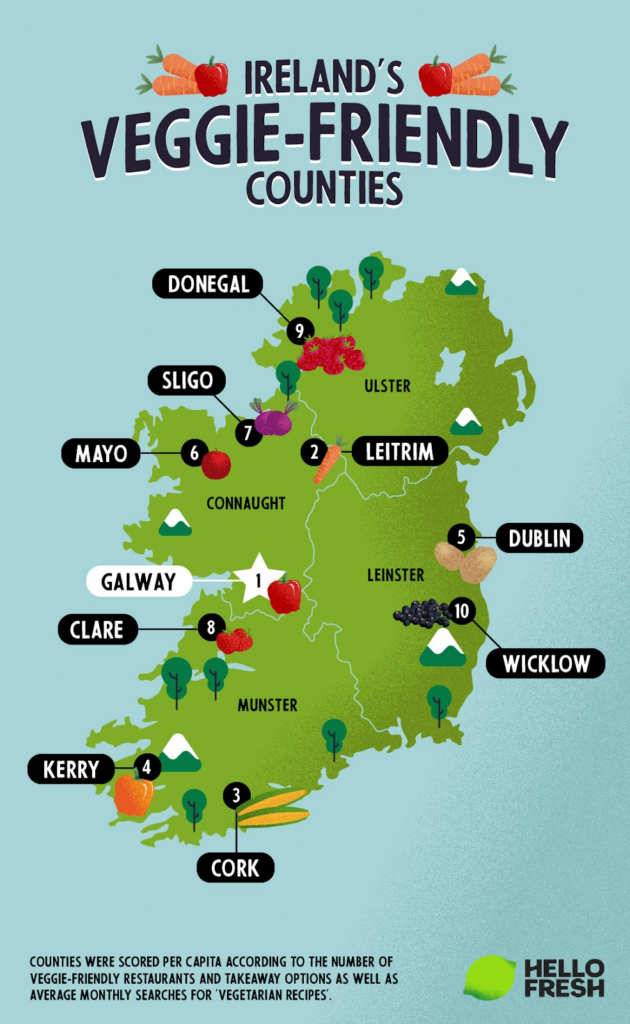 The most vegetarian-friendly counties in Ireland have been revealed, with Galway, Leitrim and Cork coming out top.
New data has ranked each county by how many vegetarian restaurants and takeaway options there, as well as how many vegetarian recipe searches there are
Ireland has appeared on worldwide veggie-friendly lists previously, while the country sees a huge number of vegetarian-related searches each month
Expert at HelloFresh comments on Ireland's shift to meat-free meals
Ireland's food scene is becoming more and more vegetarian friendly; it ranked among the top ten countries in the world for veganism in 2020, while Dublin appeared 26th in the world's most vegetarian friendly cities list in 2023.
It's also estimated that every month, there are 3,600 searches in Ireland for 'vegetarian recipes' as well as 12,100 for 'vegetarian restaurants', showing just how in demand veggie options are across the country.
But where exactly in Ireland is the most vegetarian-friendly? Data experts from HelloFresh Ireland ranked each county by how well they cater to vegetarians.
The top veggie-friendly counties have now been revealed – and surprisingly, Dublin doesn't make the top three!
Taking the top spot is Galway, closely followed by Leitrim and Cork.
Ireland's Most Vegetarian-Friendly Counties
| | |
| --- | --- |
| County | Total score |
| Galway | 100.00 |
| Leitrim | 92.87 |
| Cork | 92.67 |
| Kerry | 84.23 |
| Dublin | 65.64 |
| Mayo | 64.75 |
| Sligo | 64.14 |
| Clare | 64.01 |
| Donegal | 59.45 |
| Wicklow | 57.90 |
Each county was scored on its number of veggie-friendly restaurants, number of vegetarian takeaway options, as well as how many locals are searching for vegetarian recipes online.
County Kerry has the most veggie-friendly restaurants per capita, with 17 restaurants per 10,000 of the population. This was followed by Galway with 14 restaurants per 10,000 people and Cork with 13.
Longford had the least veggie-friendly restaurants per capita, at just 3 per 10,000 of the population.
Surprisingly, Leitrim has the most vegetarian takeaway options per capita, at 23 per 10,000 of the population. This was followed by Galway with 10 and Kerry with 9, while Carlow had the least veggie-friendly takeaway options.
Commenting on the data, Head of Culinary at HelloFresh Ireland, Hannah Duxbury, said:
"Ireland is often recognised as one of the world's most veggie-friendly countries, but most of the time it's Dublin's vegetarian food scene that people look at when really, Ireland has so many more counties that are great for vegetarians.
Here at HelloFresh Ireland, vegetarian recipes are often very popular, so it's clear that Ireland is seeing a major shift towards meat-free meals. It's no wonder that so many restaurants are catering to this demand too."
More information on HelloFresh Ireland's vegetarian meal plans can be found online.